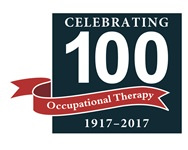 100 Years of Occupational Therapy
In 2017, both the American Occupational Therapy Association (AOTA) and the profession of Occupational Therapy turn 100. Ongoing planning is underway to update the vision of the field of Occupational Therapy (OT), to celebrate where we have come from and consider how to advance OT into the 21st century. You can read about Vision 2025 and the future of Occupational Therapy.
"Occupational Therapy doesn't just treat medical conditions, it helps people stay engaged in the activities that give them pleasure or a sense of purpose, despite challenges."
© 2005 The American Occupational Therapy Association
The practice of Occupational Therapy means the therapeutic use of everyday life activities (occupations with individuals or groups for the purpose of participation in roles and situations in home, school, workplace, community, and other settings. Occupational Therapy services are provided for the purpose of promoting health and wellness and to those who have or are at risk for developing an illness, injury, disease, disorder, condition, impairment, disability, activity limitation, or participation restriction. Occupational Therapy addresses the physical, cognitive, psychological, sensory, and other aspects of performance in a variety of contexts to support engagement in everyday life activities that affect health, well-being, and quality of life.
© 2004 Revised Definition of the Representative Assembly for the OT Association
Occupational Therapy is "therapy based on engagement in meaningful activities of daily life (as self-care skills, education, work or social interaction) especially to enable or encourage participation in such activities despite impairments or limitations in physical or mental functioning."
© 2003 Merriam-Webster's Collegiate Dictionary
Occupational Therapy (O.T.) is a health and rehabilitation profession that helps individuals achieve independence in their lives despite disabilities. OT's specialize in helping people of all ages to lead productive and satisfying lives. Occupational Therapy education includes the study of human growth and development with specific emphasis on the social, emotional and physiological effects of illness and injury.
© 2000 The American Occupational Therapy Association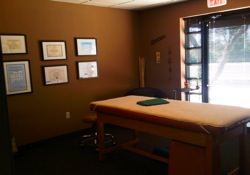 *Come to my table and find rest: Sari Hands PLC~Facilitating Health And Wholeness
With 35+ years of experience as an Occupational Therapist, Sari is interested in addressing all areas that contribute to an improved quality of life for her clients. Treatment programs are customized for each patient's needs and lifestyle, in a caring and professional manner.
Sari integrates Occupational Therapy with complementary care through the combined use of gentle hands-on treatments and functional goals. Craniosacral therapy helps to prepare the body to heal from the inside out. Through the release of restrictions in the craniosacral system, fluid flow, tissue and spinal mobility and body awareness increase, with increased functional status resulting. Craniosacral therapy also helps to balance the Autonomic Nervous System, reducing symptoms of stress.
"Intentional touch is one of the best ways to let a client know that we truly see him or her. It is one of the most effective ways to relieve discomfort, reduce stress, calm the mind, lessen the sense of feeling alone and lift the spirit.
Putting our hands on someone as an expression of genuine human regard is powerful."
Denise Wasuita, OT Practice June 27, 2005
Living Life to Its Fullest~Occupational Therapy
© Sari Hands PLC
Sari Lewis • Phone 480–206-6592 • Fax 480-451-1352 •
eMail Sari
14362 N. Frank Lloyd Wright Blvd. • Suite 1105 • Scottsdale, AZ 85260